Ed Sheeran - Sydney 15/03/18 (+ meeting Ed in person!)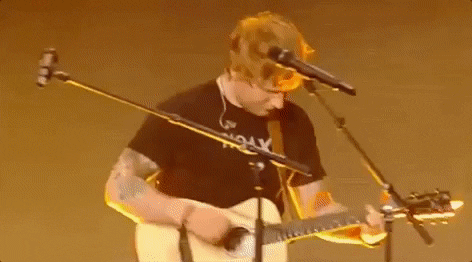 Sydney
3 shows
243,513 attendees
And a broken record at ANZ Stadium!
What an incredible show, it's actually crazy to think that one man, his guitar and a loop station can hold a packed stadium of 70, 000+ in the palm of their hand but Ed Sheeran did just that. With each lyric echoed by a full stadium of fans, young and old, when you see him play, you really witness a talent that is quite spectacular.
We have been to a few shows ourselves and Ed has been the ONLY artist to hit the stage bang on time. Starting the show bang on 8:45 pm with a high energy rendition of Castle on the Hill! The footage on the screen shows Ed making his way to the stage and the anticipation builds amidst the exhilarating roar of the crowd. Just like that, it's show time!
The night was a showcase of pure talent! He puts his whole soul into the performance, we loved seeing Ed work his magic on with the loop station and hearing the well-known hits evolve from a beat or a single strum. To think that this is all done live - WOW!  No lip syncing, no backing soundtrack - just talent and passion. If you didn't know any better, with the amount of energy, you'd think there was an entire band up there with him. 
The crowd really do feel it. Ed tells stories when he sings, its captivating and the fans hang on every word. You really connect to what he is saying and you have a great time, singing along to the songs you have hard many times, it's so liberating to belt out the tunes at the top of your lungs and just let go.
We remembered hearing Shape of You when it was first released, we were in England visiting family and walked past a record shop in West London, it was freezing, we could hear a tune playing but couldn't figure out what it was so we walked inside, it was from that moment we were hooked and that song was literally in my head for the next month, if not longer.  We had it on repeat! Hearing it again, live at the show, really brought back memories and warm fuzzy feelings reminiscing on that day!
Now what we didn't mention is before the show we actually met Ed backstage. What a humble, down to earth and easy going guy! Truly amazing, making the whole experience one for us to remember for a lifetime! He made us feel so at ease, we almost felt like we could pour a cup of tea and sit down for a long chat (that's the fellow Brit in us speaking ☕️).  A hugely talented guy and he's lovely - don't think we could have wished for more, other than to meet him again or have a jam with him someday.
From playing to 60 people his first time in Sydney to now playing to 70,000, we hope Ed will be back soon for an even bigger show.
Ed, you are a truly incredible guy, so humble and down to earth, we always loved you and your music and now even more so. Thank you for meeting us and for an incredible show! We hope to see you again soon and hope your songwriting book with serves you well on the road.
Nerelle & Rochelle
@swankandroche
The Set List
1. Castle On The Hill
2. Eraser
3. A Team
4. Don't/New Man
5. Dive
6. Bloodstream
7. Happier
8. Galway Girl
9. How Would You Feel?
10. I See Fire
11. Supermarket Flowers
12. Perfect 13. Nancy Mulligan
14. Thinking Out Loud
15. Sing
Encore:
- Shape Of You
- You Need Me



Please reload